Look at the beautiful auroras being generated during this time of spotlessness. This photo was taken on November 22, 2017, and is posted at
http://www.spaceweather.com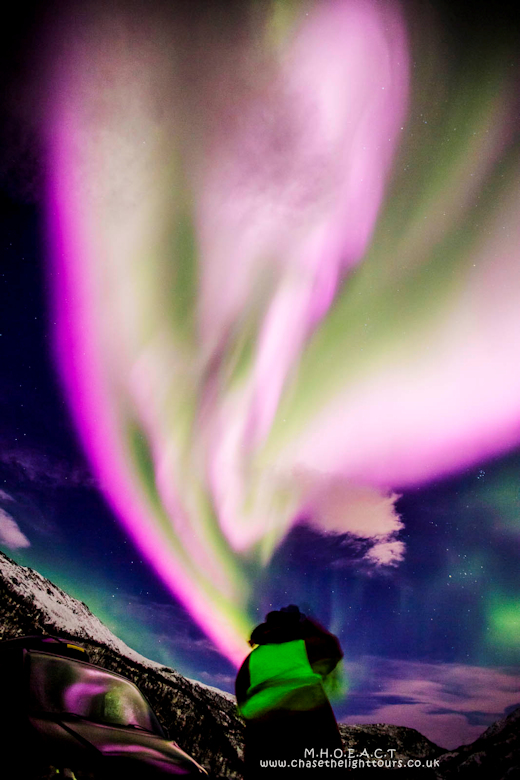 "Ironically, our guests stopped taking pictures," says Bergli. "They were awestruck and frozen to the spot by the incredible pink and green lights overhead."

This outburst was powered by a stream of solar wind flowing from a hole in the sun's atmosphere. Such holes are common during Solar Minimum, and they require no sunspots to form. That's why auroras continue throughout the 11-year solar cycle.

The pink color of the outburst tells us something interesting about the solar wind on Nov. 22nd: it seems to have been unusually penetrating. Most auroras are green–a verdant glow caused by energetic particles from space hitting oxygen atoms 100 km to 300 km above Earth's surface. Pink appears when the energetic particles descend lower than usual, striking nitrogen molecules at the 100 km level and below.

In recent winters, big displays of pink and white auroras have coincided with spotless suns often enough to make observers wonder if there is a connection. If so, more outbursts are in the offing as the sun continues its plunge toward a deep Solar Minimum. Stay tuned for pink!
A recently developing active geo-centered region can be seen in the Northern Hemisphere. Take a look at
The Sun Now
. This latest photo was taken at 0115 UT, so it was not mentioned in the NOAA forecast at 0030 UT.
I cannot link to this image as it is dynamic and would be against forum rules to do so. Will this break the sun's spotless trend? Or will this area decay and become yet another plage?
https://sdo.gsfc.nasa.gov/assets/img/la ... _HMIIF.jpg