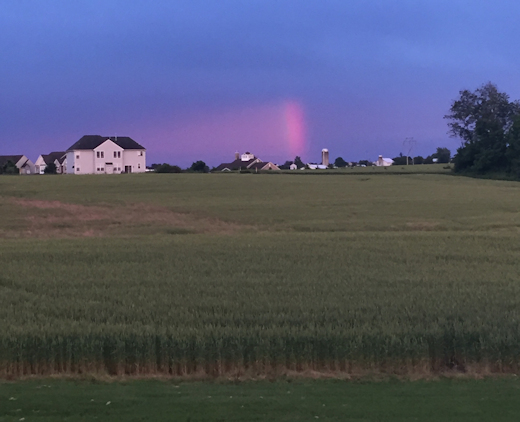 RED RAINBOW SPOKE: We all know two things about rainbows: 1. They are circular. 2. They are multicolored. Yet on June 5th, Michelle Shenberger of Dover, Pennsylvania, saw a rainbow that was neither. "It was weird," she says. "The rainbow was only red, and mostly horizontal."

Yes, this *is* a rainbow--a red rainbow spoke.

What made it red? Red was only color available. All of the other colors of the rainbow had been scattered away by air molecules and dust particles in front of the low-hanging sun. Sunset rainbows are often red like this.

Normally, red rainbows form a complete arc. This one, however, was interrupted by clouds. Shadows of clouds near the setting sun stretched across the sky, extinguishing most of the rainbow. Only a single almost-horizontal spoke remained. Weird, indeed.
Source:
www.spaceweather.com