Barbara wrote:Welcome, also, Extranjero ! Where are you from ? Please feel free to continue to speak your thoughts. All can learn.
By the way, that was cute : orthodoxian people !

Xenondrum, I believe that that is a scapular, a sacramental - not a priestly vestment - in the Our Lady of Garabandal picture.
The 2nd image is known as the "Madonna of the Poor". Notice that there is no halo at all.
Nice to hear you contributing after some time. Hope your health is back and in the best of shape.

I am feeling fine, but pray as many here in Los Angeles are sick or are even dying of this flu, which may have been manufactured.
Concerning the
Maniple
, which is a priestly vestment, here is a picture of a priest wearing the same priestly vestment as did the woman at Garabandal. It is not called a scapular, as that would have been worn around her neck and shoulders.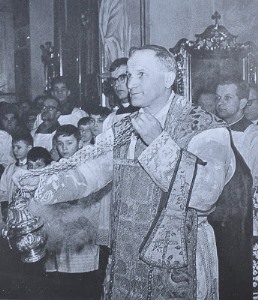 Compare this with the woman at Garabandal who wears this priestly vestment on her right arm, not on her left arm as does the priest. Why is this vestment being worn in an inappropriate manner? Finally, why is this maniple not blue? Priests of the Old Latin Tradition would wear a maniple of the same color as their liturgical vestments of the day.
There are too many questions in this picture supposedly from Garabandal: (a) there is no veil being worn by the lady; (b) she is wearing the maniple on the right instead of the left arm; (c) she wears the wrong color of maniple; (d) her eyes are downcast when the Theotokos is usually shown gazing at us and directing us to her Son; and (e) she holds the babe with her left arm instead of her right arm. Our Lady was right-handed, not left-handed. Look at the Icons of St. Luke! They all show Our Lady holding the Christ Child in her right arm. Thus, it seems to me that this is demonic and not of God. Could the warning of Garabandal also be of the devil? He is after all, the Great Deceiver.
And here is the explanation from
http://www.traditio.com/comment/com1801.htm
The Maniple Is a Mass Vestment
Now an Embroidered Band of Silk
Worn Hanging from the Left Arm of the Priest
Of the Same Color as the Other Liturgical Vestments
Appropriate to the Particular Mass Being Said or Sung
In the Old Testament Priesthood
The Maniple Was Used as a Kind of Handkerchief
The Latin Vesting Prayer Indicates that the Maniple Is Symbolic
Of the Tears of Penance, the Burden of Sin
And the Fatigue of the Priestly Office