New Book: Metropolitan Petros of Astoria
Written by Anastasios Hudson Monday, 18 August 2014 09:04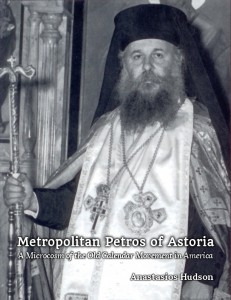 Thanks be to God, I have finally published my book, Metropolitan Petros of Astoria: A Microcosm of the Old Calendar Movement in America. This book, which was originally my Master's thesis at St. Vladimir's Seminary (2005), has been edited and corrected, and formatted for publication.
At present, the book is available in print-on-demand and ebook formats from the following locations:
Print: CreateSpace and Amazon.com
eBook: Amazon Kindle, Lulu, Kobo, Nook, iBookstore
From the back cover of the print edition:
"Metropolitan Petros of Astoria was born Stephanos Astyfides on September 1, 1915, on the island of Chios, Greece, to Maria and Dimitris Astyfides. From an early age, it is reported that both he and his brother Nikolaos (later Fr. Niphon) were inclined towards monasticism. At the age of 18, Stephanos set off with Nikolaos to Mount Athos, where they resided at the Skete of Saint Anna in the Cell of the Holy Ascension. They were ordained as deacons and priests by Bishop Germanos of the Cyclades in order to serve parishes in Thessalonica, Chios, and Athens that adhered to the Julian Calendar. The precise date of Father Petros's ordination to the priesthood was August 9, 1944. At this time, there were no bishops and very few priests affiliated with the Greek Old Calendarist Church, and as a result hieromonks from Mount Athos performed the task of serving for those faithful who refused to accept the New Calendar" (Chapter 2).
Tucked away on a quiet street in Astoria, New York is the Cathedral of Saint Markella, founded in 1954 by Metropolitan Petros of Astoria (1915-1997), the first resident Old Calendarist Greek Orthodox bishop in America. This work examines his ecclesiastical life, from his origins in Greece through his arrival in America and establishment of the Cathedral, his ordination to the episcopacy by bishops of the Russian Orthodox Church Outside Russia, his relationship to the Holy Synod of the Church of the Genuine Orthodox Christians of Greece, and his later years. The controversial issue of his views on the issue of Grace in the Mysteries (Sacraments) of the New Calendarists is discussed frankly and analyzed. His life and work is framed in the context of the Old Calendar movement as a whole, and his life is revealed to be a microcosm of it.
What emerges is a portrait of a zealous pastor dedicated to the salvation of the souls under his care, who reached out to the Greek Diaspora of New York and beyond with a concern for preserving and restoring ecclesiastical Tradition, who cultivated deep relations with Russian Orthodox Christians at a time when Orthodox in America appeared to be hopelessly fractured along ethnic lines, and who maintained a principled approach to theological matters, despite suffering great personal costs.
Also, see the excerpt from the Preface.
Please purchase your copy today, and help support me in my writing career! Your support will enable me to continue writing additional works such as this in the future!
Originally published at http://www.anastasioshudson.com/publications/new-book-metropolitan-petros-of-astoria/
On the "Return" of the Euphrosynos Café
Introduction
I was given ownership of the Euphrosynos Café, a Traditional Orthodox website featuring a forum and Orthodox resources [site history], in November 2008, when its founder Nicholas Stanosheck, a former deacon in the Russian Orthodox Autonomous Church, could no longer support it. He had hopes that I would be able to revitalize it quickly, and restore it to its former glory. I had recently been ordained to the priesthood by His Eminence Metropolitan Pavlos, and Nicholas thought a True Orthodox clergyman would be well-suited to the task of breathing new life in to the site.
At the time, I told him that I doubted I could do much with the site, due to time constraints on my end. For starters, I am a missionary priest, attempting to establish missions in North Carolina and surrounding areas. At present, I serve two missions in North Carolina (Raleigh and Greenville) regularly, and a mission in Charlottesville, Virginia 3-4 times a year. I have pastoral care over families who live far from a parish as well. I am the Director of Internet Ministries of the Holy Metropolis G.O.C. of America, and manage numerous parish websites.
Welcome to the Saint Euphrosynos Café
Sunday, 28 February 2010 19:00
Welcome to the Euphrosynos Café, a site established to provide Traditional Orthodox Christians and Inquirers with materials to enrich their spiritual life, learn about Orthodox doctrines, find local Churches and Missions, and fellowship with one another.
The Euphrosynos Café started out as the ROCOR Café back in 2001. The concept, brainstormed by a catechumen named Nicholas and a tonsured Reader going by the name Cyril, was a safe place where members of the Russian Orthodox Church Abroad (ROCA/ROCOR) could be safe from the attacks of "World Orthodoxy" so prominent on other Orthodox Christian web sites. It was also created to be a place where all Orthodox Traditionalists could safely discuss True Orthodoxy without being vilified, while presenting a directory of traditional Orthodox links in its portal in addition to books of the month for adults and children, etc.
Initially, the site was comprised of mostly members of the ROCOR, but in time it gained a noticeable Greek presence from members of the Church of the Genuine Orthodox Christians (GOC), thus broadening the forum's composition. New posters from the Russian Orthodox Autonomous Church (ROAC) and those members of ROCOR who did not accept the election of Metropolitan Laurus in 2001 also joined. We have even been blessed by having priests contribute from several Traditional Orthodox jurisdictions. A number of clergy and laity belonging to Ecumenist and New Calendarist jurisdictions have also joined to better acquaint themselves with Traditional Orthodox doctrine and praxis.
In early 2003, the ROCOR under Metropolitan Laurus decided that the ROCOR name was its protected trademark, and began to assert that our site did not have a right to use the name ROCOR Café. Out of respect for their wishes, a vote was held for a new name, and the winner was the one submitted by another Nicholas, a Reader in the Synod in Resistance under Metropolitan Cyprian of Oropos and Fili. The new name was the Euphrosynos Café, named after Saint Euphrosynos the Cook. The name change was providential, insofar as ROCOR's move towards communion with the Moscow Patriarchate prompted concerned individuals to seek refuge in other Orthodox jurisdictions, and the Café was now poised to be a pan-Orthodox place for them to congregate.
Eventually, a popular poster, Ioannis, an English and Greek-speaking member of the Church of the Genuine Orthodox Christians (GOC) under Metropolitan Pavlos, joined the Café's ever changing moderatorial team, and eventually became the co-administrator and main developer. Together, in 2004 and 2005, the recently ordained Father Deacon Nicholas and Ioannis rebuilt the entire site from the ground up, upgrading and increasing its many features.
During 2007, many major changes came to the site. First, due to some polemical issues in the ROAC of America, Ioannis became the legal owner of the site. Then, two moderators, Father Siluan, a Russian and Spanish-speaking priest of the Latin American mission of the ROAC, and Father Mark, a Matthewite priest from Canada, were elevated to become full administrators of the site. Next Juvenaly, a popular poster, created a TOC map application for the Café. Finally, Father Nicholas retired from the diaconate. In conjunction with this, he and Ioannis turned control of the Café over to Father Anastasios Hudson, a priest of the GOC under Metropolitan Pavlos.
In March 2010, the Café was reorganized and its design slightly updated. Day-to-day administration of the Café was turned over to Jonathan Gress, a layman in the GOC who attends St. Markella's Cathedral in Astoria, New York. Jonathan will work closely with Fr. Anastasios, who will continue to own and manage the development of the site.
We try to be a lightly-moderated place where personal attacks are non-existent and where we can learn from one another in a true, loving, traditional Orthodox Catholic Christian experience. Welcome to The Saint Euphrosynos Café and may it allow us all to help one another to become better true-confessing Orthodox Christians.